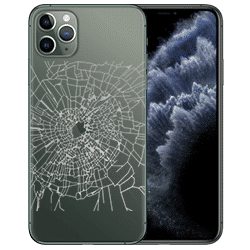 In the last couple of years, Apple and other popular brands started to sell their cell phones with a "Back Glass", mainly because of the wireless charging functionality. This "Back Glass" is really easy to break and VERY difficult & expensive to repair (Apple Repair Prices). For some reason, Apple decided to go crazy with the amount of glue used to stick those Back Glass on the back of the iPhone 8 and newer models. Making this repair almost impossible without the help of a new laser machine.
We are proud to announce that we are now officially offering a fast and affordable back glass repair service.
 If you are outside the Greater Moncton area, we do offer a mail-in service. Just need to fill out the form, submit and ship us your phone by mail.
How to identify your Apple device
As a business, we receive many phone calls and emails everyday. And the most important question we have to ask our customers in order for us to provide them with accurate information or a price quote is …
What's The Model Number of Your Device?
We noticed over time that most customers don't know or have this information ready when calling or sending us an email (which is totally normal). So we decide it would be helpful and a major time saver for all of us to explain how to identify your apple device.
In order to identify your Apple device, you need to find your iOS device's model number.
1. Look In Settings
Go to Settings > General > About. To the right of Model, you'll see the part number. To see the model number, tap the part number.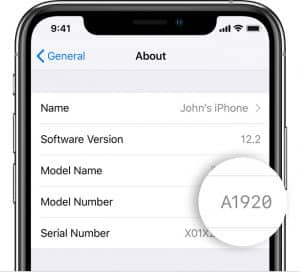 2. Look On Your Device
On an iPhone 8 or later, to find the model number, remove the SIM tray and look in the SIM tray slot. Make sure that you're in a place with bright light overhead. The model number is on the upper side—the side with the display.

On an iPhone 7 or earlier, an iPad, or an iPod touch, find the model number on the back of your device.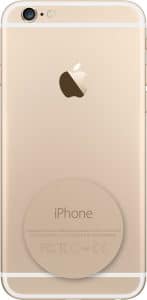 For a full list of all iPhones, iPads & iPod Touch models, please visit our Apple Model Identifier page.
Dell XPS L502X Disassembly
Had some fun yesterday with a little project that I had been putting a side for too long. I've owned a few computers and laptops in the past years, and my Dell XPS L502X is by far the toughest and best laptop I've purchased so far (bought new in 2011). This machine was subjected to many difficult environment since it was used as a DJ laptop (clubs, outdoor & indoors events, parties, etc.) and my everyday computer as well. Now I use this laptop mainly for my music and internet browsing, but it's still powerful and fast enough for much bigger tasks.
Overheating Issues
Overtime, I noticed my CPU fan was always running high, even when the system was idling. And I was also having a few issues with 1 USB port on the back. So I decided to venture into cleaning and replacing the following :
USB Port 3.0 IO Circuit Board (replacement)
CPU Fan (replacement)
CPU & GPU Heatsink (cleaning & applying new thermal paste)
And since I was already opening up the laptop, I decided to boost my memory from 8GB to 16GB.🚀
Dust and Melted Thermal Paste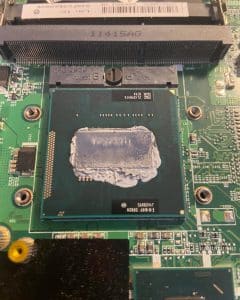 After I've successfully disassemble my Dell XPS L502X, I immediately notice the dust on the heatsink and fan, which was expected with a 10 year old laptop. But what really surprised me was the amount of thermal paste remaining on my CPU after removing the CPU/GPU heatsink.
Almost all the original thermal paste (from Dell) was melted off the CPU Chip, obviously causing my high temps and making my CPU fan running high all the time.
So here was the repair process in order :
replace the CPU fan (since the original one was VERY dirty, and I also wanted to rule out the possibility of a bad or defective fan)
I replace my USB I/O board.

Cleaned and removed the CPU/GPU heatsink
Removed the old CPU/GPU thermal paste and applied new Artic MX-4 thermal paste.
Assemble back the laptop and voilà! … No CPU Fan noise after booting up the laptop. SUCCESS!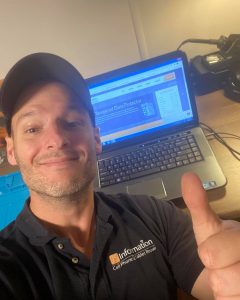 Results & Conclusion
After monitoring my CPU temps, I've notice a drop of 15-20 degrees in heat while processor is idling, which is excellent. The new CPU Fan, USB I/O Board are working without any issues and my Memory Upgrade has given the laptop a very noticeable speed boost.
Got issues with your old PC or MacBook fans running full speed all the time? You might need a new thermal paste job done by JS Information!
💥

 iMac 27″ Late 2013 SSD Upgrade 

💥
Our last SSD upgrade was completed on a late 2013 iMac 27″. This specific model of iMac gave us the possibility to add a PCIe SSD while keeping the original HD inside the iMac for extra storage.
PCIe SSD's are much faster than regular 2.5inch SATA SSD's, giving the computer more speed and overall performance. In order to gain access to the PCIe slot, we had to remove the entire motherboard, since the slot is located on the back.
Cloned the old Hard Drive over to the new PCIe SSD and voila, we have a new monster iMac! 😎 Another happy customer!
Your old laptop or computer is not performing well? Give us a call today for a free quote! (506) 878-7445 📞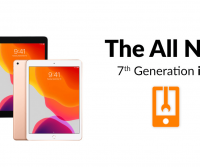 Now Offering iPad 7 (10.2″) Repair Services

JS Information now offers the new iPad 7th Gen (10.2″) Screen Repair Services. Not sure what model of iPad you have? Give us a call today and we can help you find out.
Here is what we have to offer :
Same day repair (60-90 minutes / iPad screen repair)
90 Day warranty on part functionality and service
Best prices in town / Excellent customer service
Call us today for a FREE quote (506) 878-7445 or visit our website at : https://jsinformation.com
Time to get that old broken screen looking good again!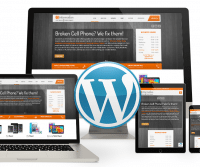 Website Design & Hosting Services Now Available
Need a business or personal website but don't know where to start? JS Information has been offering Website Design & Hosting with Search Engine Optimization services for the last 10 years.
When it comes to Website Design & Hosting, Marketing or Graphic Design, we like to keep things as simple as we can for you to understand. Provide us with the information & content for your website, and we'll do the rest. We provide personalized service and professional support as we create your website to your specifications.
We also offer services to improve your current website, if you already have one, and SEO programming for better online indexing and ranking on Google. All our websites are based on the industry standard WordPress Platform.
Our Website Design & Hosting package includes :
➡️ Initial Consultation
➡️ Google My Business Page
➡️ WordPress Plugins Integration
➡️ Google Search Console
➡️ Google Analytics
➡️ Social Networks Sites Link
➡️ Website Personalization & Customization
➡️ Responsive Website Templates
➡️ Website & Database Backups
➡️ SEO Programming (Search Engine Optimization)
➡️ Customer Support & Training
Check out our latest customers websites :
Not only did we give their old website a fresh new look, we helped them get ranked on the first page and top search results on Google, which is critical these days with competition.
Give us a call today (506) 878-7445 or send us an email so we can schedule an initial consultation and start working on your website! 😊