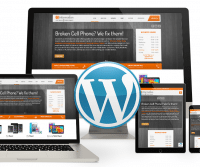 Website Design & Hosting Services Now Available
Need a business or personal website but don't know where to start? JS Information has been offering Website Design & Hosting with Search Engine Optimization services for the last 10 years.
When it comes to Website Design & Hosting, Marketing or Graphic Design, we like to keep things as simple as we can for you to understand. Provide us with the information & content for your website, and we'll do the rest. We provide personalized service and professional support as we create your website to your specifications.
We also offer services to improve your current website, if you already have one, and SEO programming for better online indexing and ranking on Google. All our websites are based on the industry standard WordPress Platform.
Our Website Design & Hosting package includes :
➡️ Initial Consultation
➡️ Google My Business Page
➡️ WordPress Plugins Integration
➡️ Google Search Console
➡️ Google Analytics
➡️ Social Networks Sites Link
➡️ Website Personalization & Customization
➡️ Responsive Website Templates
➡️ Website & Database Backups
➡️ SEO Programming (Search Engine Optimization)
➡️ Customer Support & Training
Check out our latest customers websites :
Not only did we give their old website a fresh new look, we helped them get ranked on the first page and top search results on Google, which is critical these days with competition.
Give us a call today (506) 878-7445 or send us an email so we can schedule an initial consultation and start working on your website! 😊