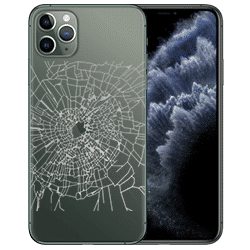 In the last couple of years, Apple and other popular brands started to sell their cell phones with a "Back Glass", mainly because of the wireless charging functionality. This "Back Glass" is really easy to break and VERY difficult & expensive to repair (Apple Repair Prices). For some reason, Apple decided to go crazy with the amount of glue used to stick those Back Glass on the back of the iPhone 8 and newer models. Making this repair almost impossible without the help of a new laser machine.
We are proud to announce that we are now officially offering a fast and affordable back glass repair service.
 If you are outside the Greater Moncton area, we do offer a mail-in service. Just need to fill out the form, submit and ship us your phone by mail.