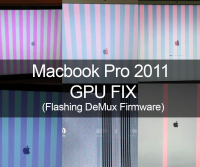 Macbook Pro 2011 Disable Bad GPU Fix
(DeMux Flashing)
If you still own an old 2011 Macbook Pro 15"/17" and are experiencing the following symptoms :
Random shutdowns and won't boot back in the operating system.
This most likely means your GPU (Graphic Processor Unit) or dedicated graphic card is going bad or is defective. The good news is, we have a solution (Firmware Flash) to make your logic board utilise permanently the internal graphic card (built-in graphics) instead of your dedicated GPU, allowing you to use your Macbook without any issues.
Give us a call or send us a private message if you are interested in this repair or have any questions.
(506) 878-7445
www.jsinformation.com