Nintendo

Switch Repair Service
Nintendo Switch Repair
Headphone Jack / Game Card Reader Replacement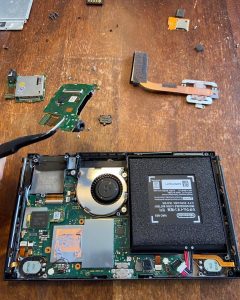 Today we ventured into a Nintendo Switch repair … which had a broken or defective Headphone Jack / Game Card Reader. The customer said they kept hearing static noise while having headphones plugged in, even after trying multiple sets of headphones, the noise did not go away. A quick disassemble to replace the Headphone Jack board and voila, problem fixed! Also took the time to clean the CPU fan and Heat Sink which was full of dirt and dust.
At JS Information, it's not just about Cell Phones and Tablets, we offer a wide variety of mobile device repair services, including Gaming Consoles.
Give us a call today for a free quote. 
(506) 878-7445
https://jsinformation.com
Write

a Comment
Fields with * are required